Agitated Sea at Etretat
Information sur l'artiste

Claude Monet [Paris, 1840 - Giverny, 1926]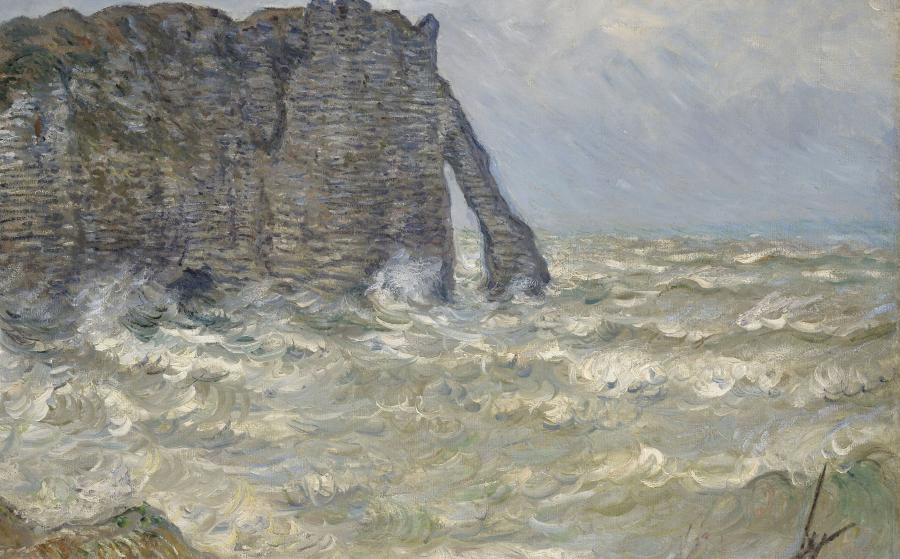 Claude Monet,
Mer agitée à Étretat, 1883.
Image © Lyon MBA - Photo Alain Basset
Contenu
Amongst all the impressionist painters, Claude Monet was the one who was most attracted to the changing atmosphere of seascapes, in particular those of Brittany and Normandy.
 
This view, as seen through a hotel room window, is that of the beach at Etretat, which Monet painted as a series in February 1883. This is a stormy winter scene. In the foreground, two fishermen standing between their craft and three old "caloges" fill the landing. The picturesque shape of the cliffs stands out against a curtain of rain streaking across the sky. Horizontal brush strokes indicate the stratified rock. Under the effect of a violent wind, pearly waves, executed in rapid, vibrant curls, invade the central part of the painting.

Purchased the year it was created by Durand-Ruel, the well-known Parisian art dealer who supported the Impressionists, the painting was sold in 1902 to the museum, which was a precursor in the acquisition of Impressionist paintings.
Artwork label
Description de l'œuvre
1883
Oil on canvas
H. 81; W.100 cm
Acquired in 1902