Drapery Study
Information sur l'artiste

Albrecht Dürer [Nuremberg, 1471 - Nuremberg, 1528]
Date de l'œuvre libre
1508-1509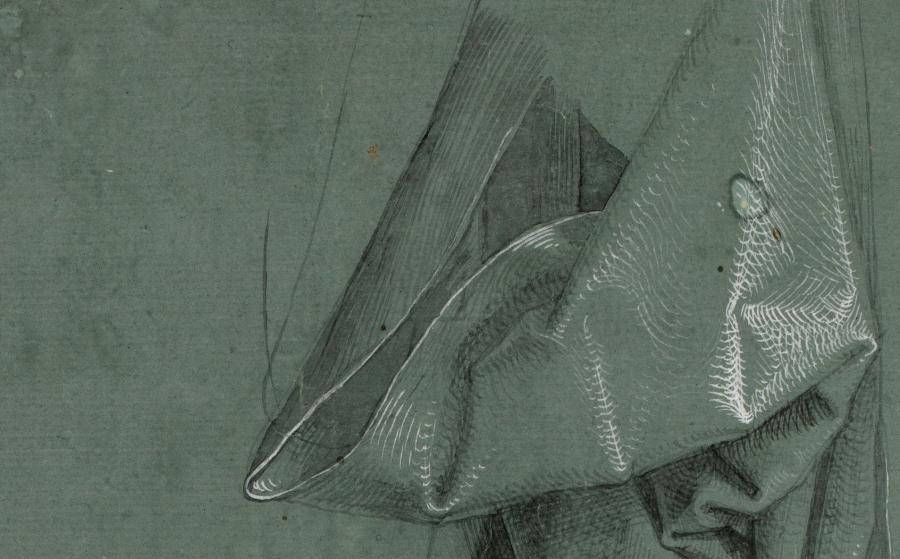 Albrecht Dürer,
Étude de draperie, 1508-1509.
Image © Lyon MBA – Photo Martial Couderette
Contenu
In 1503, Jakob Heller, a wealthy merchant from Frankfurt, ordered a retable for the Dominican church of his city from Dürer. According to the terms of the contract, an Assumption and Coronation of the Virgin was to be placed at its center. Having entrusted the other parts of the retable to his workshop, Dürer did not finish the central motif until 1509. This panel, which disappeared in a fire in 1729, is known through a copy by Jobst Harrich. Another great master of German art, Matthias Grünewald, was associated to this order and painted four shutters in grisaille. Today, they are found in diverse locations in Karlsruhe and Frankfurt. The process of creating the retable can be reconstructed thanks to numerous studies that we have inherited, including over twenty for the central panel. After drawing the overall layout for his paintings, Dürer made more detailed studies of certain elements. The study of the drapery of the Virgin's cloak is one of these. The contrasts of light and shadow reveal the influence of Rhineland engraving, in particular the work of Martin Schongauer. But here, a Germanic severity is allied to a softness that characterized the art of Dürer after his stay in Venice. This drawing might have belonged to Vivant Denon (who also owned the very beautiful study of the drapery for the Christ in Glory, Paris, Louvre). It was offered by Paul Balze, a student of Ingres, to the art historian Gustave Gruyer, part of whose collection would be donated to the Lyon Museum.
Artwork label
Description de l'œuvre
1528
Brush and India ink, white highlights on dark green prepared paper
H. 23; W. 14 cm
Melles Gruyer Bequest, 1946