The Lineage of Saint Anne
Information sur l'artiste

Gerard David (workshop) [Oudewater, vers 1460 - Bruges, 1523]
Date de l'œuvre libre
Circa 1500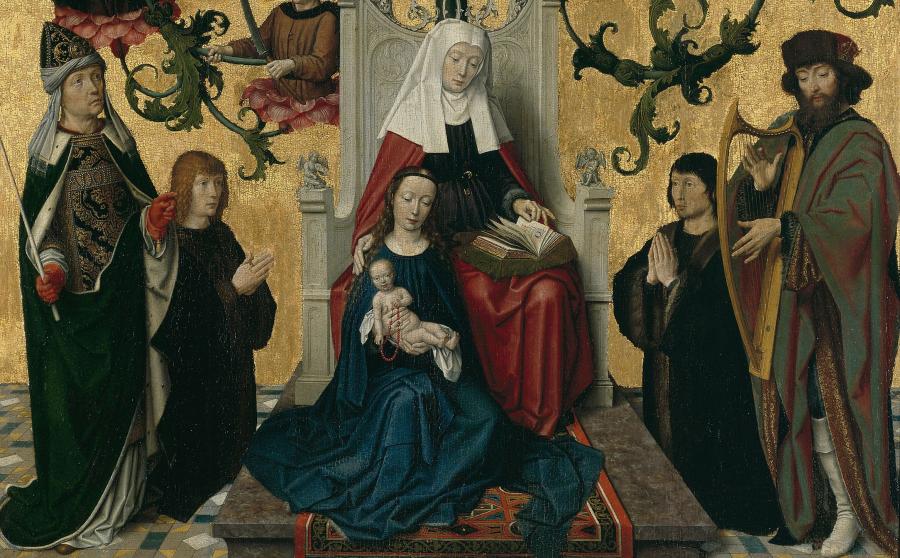 Gérard David,
La lignée de Sainte Anne, vers 1500.
Image © Lyon MBA - Photo Alain Basset
Contenu
This work was most likely commissioned by the two donors depicted kneeling on either side of Saint Anne's throne, places ordinarily occupied by the prophet Isaiah or Jeremiah and King David.
The painting is an original combination of the "Saint Anne Trinitarian", which depicts the reunion of Saint Anne with her daughter the Virgin, the latter holding the Infant Jesus, and the image of Saint Anne's relatives, modelled on the family tree of Jesse. Anne's three husbands and three daughters, the latter all named Mary, as well as their partners and seven children, are shown from the waist up in rings of petals supported by the tendrils of this family tree dominated by God the Father. The identification of the family members was made possible due to an engraving which indicates the names of the various individuals. It is hard to say whether this painting was inspired by the engraving, or whether both pieces stem from the same undiscovered work.
Some art historians have identified the figure to the left of the throne as a self-portrait of the Bruges painter, considered an extremely talented portrait artist, however it could as well be a self-portrait of one of the artists in his workshop, in which case this painting could be attributed to their hands.
Artwork label
Description de l'œuvre
Circa 1500
Oil on wood
H. 88; L. 69.5cm
Purchased in 1896
Inv. B 540