Madame Guimard's Bedroom
Information sur l'artiste

Hector Guimard [Lyon, 1867 - New York, 1942]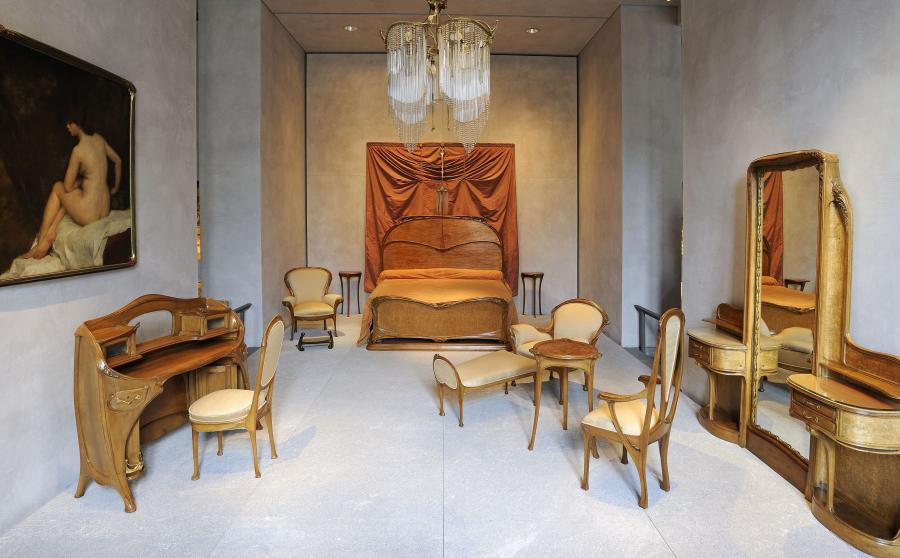 Hector Guimard,
Chambre de Mme Guimard, 1910.
Image © Lyon MBA - Photo Alain Basset
Contenu
An exceptional illustration of the Art Nouveau style, this bedroom was designed by Hector Guimard, one of the most famous representatives of this artistic movement from the beginning of the 20th century.
In 1909, Guimard and his wife moved to a town house that he had designed on Avenue Mozart in Paris. In this three-storey building, the artist carried out a program of "total" design, which brought together architecture and interior decoration: furniture, tiling, carpeting, stained-glass windows, curtain fabrics, table linens, etc.
The furniture is made from pear wood, with a bird's-eye maple veneer for the bed and dressing table. On the wall, the painting of a nude is in a Guimard frame. This is a work by his American wife, Adeline Oppenheim, a well-known artist. The ceiling light and the wall-mounted light fixture in glass and bronze are from the living room.
Along with the dining room exhibited at the Museum of Fine Arts – Petit Palais in Paris, this set is the only remaining trace of Guimard's remarkable quest for stylistic unity, where material refinement combines with the grace of forms inspired by the plant world.
Artwork label
Description de l'œuvre
France
1910 - 1911
Pear wood, gilded bronze, bird's-eye maple veneer
Donation of Adeline Oppenheim-Guimard in 1948