The Sâr Péladan
Information sur l'artiste

Alexandre Séon [Chazelles-sur-Lyon, 1855 – Paris, 1917]
Date de l'œuvre libre
1892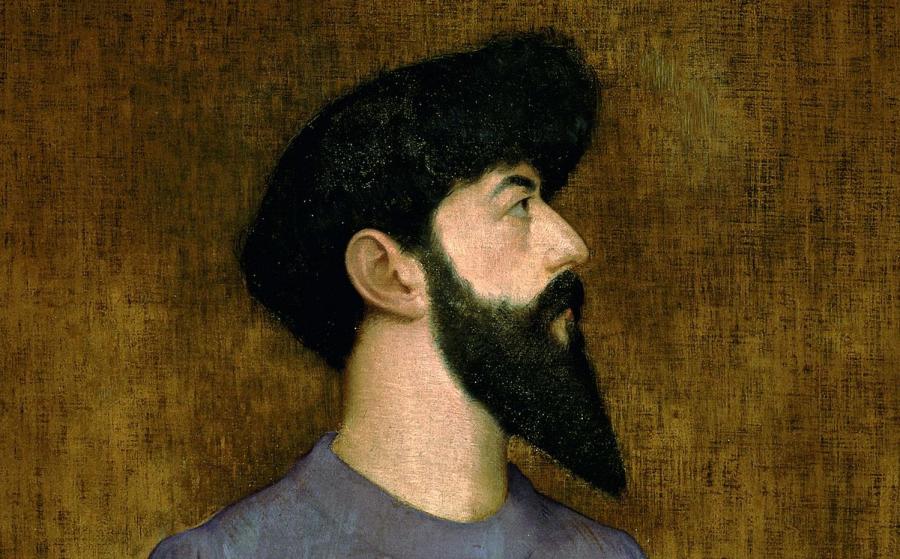 Alexandre Séon,
Le Sâr Péladan, 1892.
Image © Lyon MBA - Photo Alain Basset
Contenu
Originally from Lyon, Joséphin Péladan (1858-1918) cut a conspicuous figure at the end of the 19th century, with his flamboyant, passionate personality, his mystical Catholicism, and his taste for the esoteric. He wrote novels, including The Supreme Vice, published in 1884, as well as plays and treatises. He claimed to be a mage and changed his name to "Sâr", a title he took from Ancient Persian. He created the Ordre de la Rose-Croix du Temple in 1890, in a split from traditional Rosicrucian society, and his interest in art compelled him to organise the Rose-Croix exhibitions in Paris from 1892 onwards. Alexandre Séon's portrait of Péladan was exhibited during the first edition of this Salon.

The painting portrays him in a formal style with pure lines, in profile, wearing his long violet prophet's robe. His appearance is intended to be modelled on that of the Oriental elders, and he himself called "Chaldean". His beard is trimmed in the Assyrian style and his hairstyle is said to be inspired by images of Gudea, a Mesopotamian leader whose portraits Séon may have admired at the Louvre. Péladan was particularly fond of this picture, created by Séon, who was also one of his close friends. He wrote to thank him: "You have created the ideal Nabi, impervious in his violet robe, facing the riotous era in which he lives and which is an affront to him, resolute and calm because his word is the word of faith".
 
Artwork label
Description de l'œuvre
1892
Oil on canvas
H. 132.5; L. 80 cm
Donated by Adrienne Péladan in 1936
Inv. 1936-50