Sestertius featuring the Altar of the Three Gauls
Information sur l'artiste

Lyon, Reign of Augustus
Date de l'œuvre libre
between 9/10 and 14 A.D.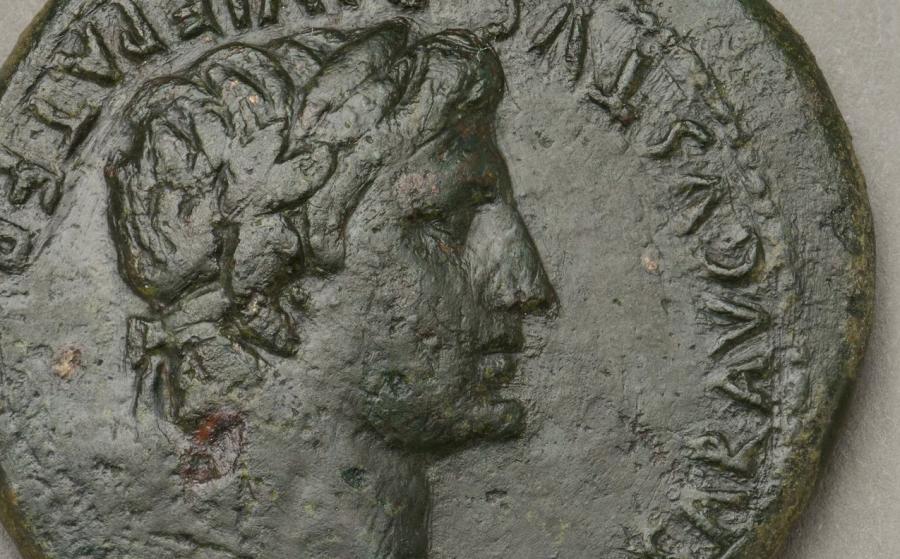 Lyon,
Sesterce d'Auguste à l'autel des trois Gaules, Ier siècle ap. J.-C.
Image © Lyon MBA - Photo Alain Basset
Contenu
The sestertius was the most highly-prized bronze Roman coin, while the aureus (gold), and the denarius (silver) were used for wider trade and for paying troups. These impressive bronze coins were in wide circulation in the Provinces of the Roman Empire, and they often remained in use for several decades, even across one or two centuries.
On the observe of this sestertius is the delicate profile of Augustus, founder of the Empire, with his titles inscribed around the edge, thus allowing its issue date to be identified as between 9 and 14 A.D. The reverse figure l'Autel des trois Gaules, principal monument du sanctuaire confédéral édifié à Lyon à la fin du Ier siècle avant J.-C.
Perfectly preserved, this sestertius is of great historical interest: coins bear the only remaining images of this famous structure, a symbol of the power of Roman authority in the capital of the Gauls. The inscription "to Rome and Augustus" on the reverse is proof of the new Gallic capital's dedication to the Empire and its values.
Artwork label
Description de l'œuvre
Artwork label
Lyon
Reign of Augustus, minted between 9/10 and 14 A.D.
Bronze
D. 3.4 cm
Purchased in 1991
Inv. 1991-2