Bakenkhonsu's funerary servant
Information sur l'artiste

WESTERN THEBES
Date de l'œuvre libre
1250-1220 B.C.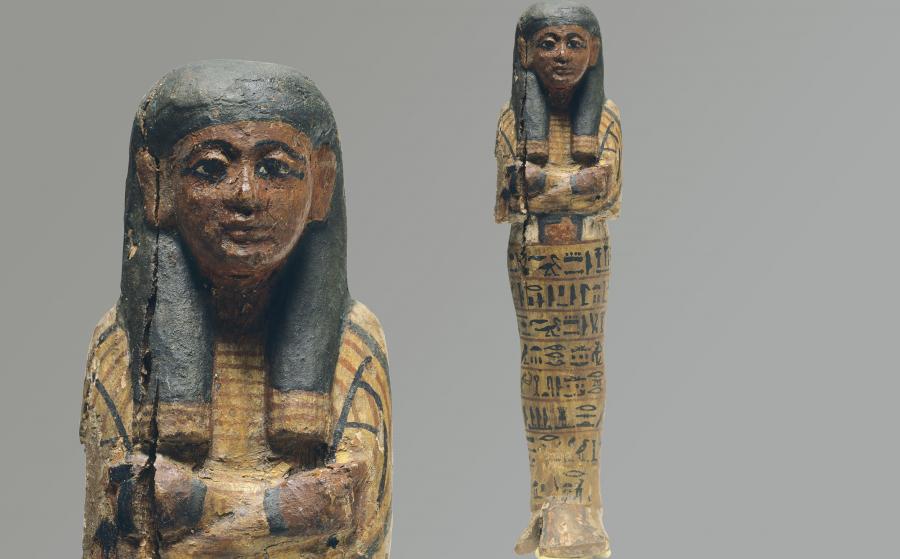 Égypte,
Serviteur funéraire de Bakenkhonsou, Nouvel Empire.
Image © Lyon MBA @ Photo Alain Basset
Contenu
Bakenkhonsu's funerary servant (ushabti) is dressed in a mummiform shroud. He is wearing a three-part wig; his hair ends are decorated with red and yellow ribbons. The skin tones are painted in red and the details are outlined in black. The white of the cornea lends a great intensity to his gaze.

His arms are crossed, clutching two hoes to his chest in anticipation of the agricultural work to be done in the afterlife. An inscription decorates the shroud: eight rows of painted hieroglyphs giving the name of the deceased and his priestly title.

Bakenkhonsu was also well-known in other spheres, and was an important figure in the Ramesside period. Born at the end of the 18th Dynasty, he began his career as a member of the clergy of Amun, then rose to the prestigious rank of High Priest of Amun under Ramses II. The text also includes the customary rendition of chapter six of the Book of the Dead: the spell used to enable the ushabti to carry out agricultural work in the afterlife.
The high quality of this small painted wooden sculpture is clear, particularly in the fine details and the feeling of serenity, introspection even, that emanates from the figure.
 
Artwork label
Description de l'œuvre
Western Thebes
New Kingdom, 19th Dynasty, circa 1250-1220 (?) B.C.
Polychrome sycamore wood
H. 24.4; W. 5.2; D. 3.8 cm
Bequeathed by Lambert in 1850
Inv. L 1336