Basin
Information sur l'artiste

Fârs, Iran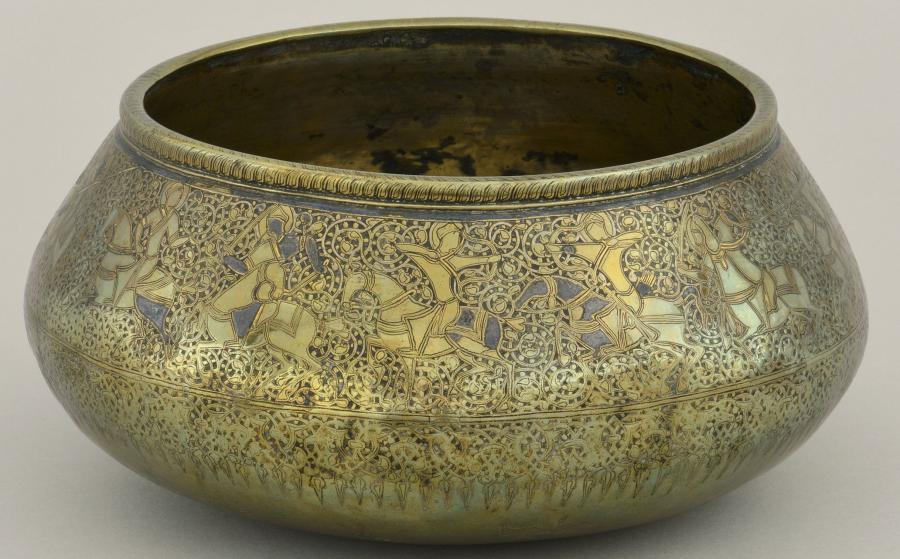 Fârs, Iran,
Bassin, 1347.
Image © Lyon MBA - Photo Alain Basset
Contenu
This brass basin is a remarkable example of the high degree of quality attained by metalworkers in Iran under Mongol domination (1215-1353). It belongs to the very homogeneous production of Fars, a region in southern Iran.
Six horsemen are represented on the spiral flourishes of the main decorated area. They enjoy the leisure activities reserved for the upper classes: single combat, hunting and polo. This décor stems from the repertory shared by workers in bronze and painters of miniatures. The finely stylized contours of the figures are accented with a golden fillet. Clothes and horses are incrusted with small, engraved silver plates, which have been partially preserved. The bottom of the recipient is engraved with concentric rows of fish around a sun. A Persian inscription under the base dates the piece from 1347. This indication and the beauty of the basin make it a reference piece for the study of production from Fars.
Artwork label
Description de l'œuvre
Fars, Iran
1347
Copper alloy, hammered and engraved, incrusted with gold and black paste
H. 11.2; D. 18.2 cm
Tripier bequest