Portrait of a Woman Suffering from Obsessive Envy, also known as The Hyena of the Salpêtrière
Information sur l'artiste

Théodore Géricault [Rouen, 1791 - Paris, 1824]
Date de l'œuvre libre
Around 1819-1822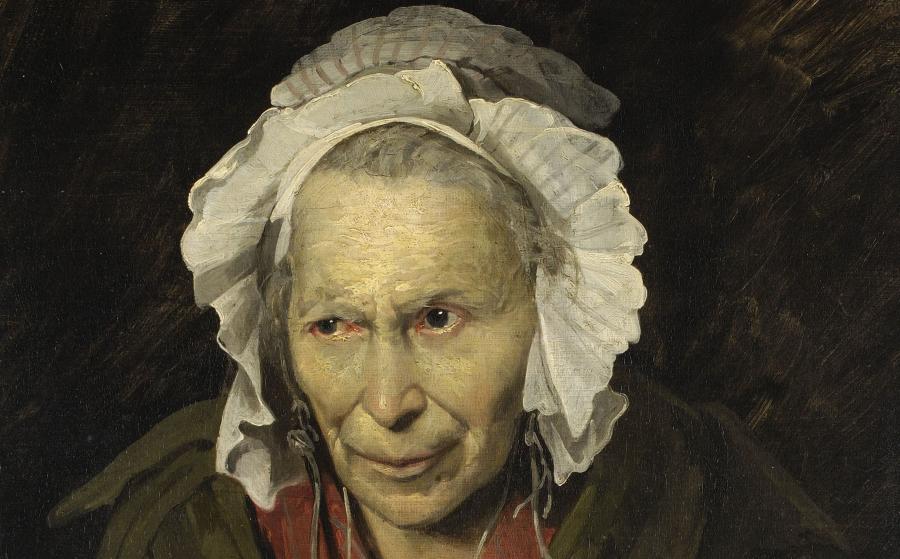 Théodore Géricault,
La Monomane de l'envie, vers 1819-1822.
Image © Lyon MBA - Photo Alain Basset
Contenu
This portrait belongs to a series of five portraits of mad people painted by Géricault before his stay in England (1820-1821). With regards to these portraits, it is customary to write that almost nothing is known about their origins. In a letter from 1863, the critic Louis Viardot tells about their discovery by chance at Baden Baden and considers these maniacs as obsessive. He specifies the nature of each obsession: stealing children (Springfield), military leadership (Winterthur), robbery (Ghent), gambling (Louvre) and envy (Lyon). According to him, these portraits were painted between 1820 and 1824 (probably an erroneous date) for Géricault's friend, Dr. Georget, head of medicine at the Salpêtrière hospital. In fact, there are no documents showing a relationship between the two men, or even an interest by Georget in this type of representation. This is in contrast to the famous Esquirol, a reformer of asylums, who declared in 1818 that he had drawn over 200 insane individuals with the goal of publishing his observations on the subject. But it was necessary to wait until 1924, the hundredth anniversary of Géricault's death, to establish the importance of these portraits for art history In this series, Géricault's painting becomes introspective. By avoiding all hints of the picturesque, the artist has portrayed a true clinical likeness of this madwoman, thereby breaking with the traditional rules of portraiture. He insists in particular on certain elements, such as the woman's cap, her clothing, her strange expression and her bulging eyes.
Artwork label
Description de l'œuvre
1819-1820
Oil on canvas
H. 72; W. 58 cm
Acquired in 1908